Virtual care's time has come.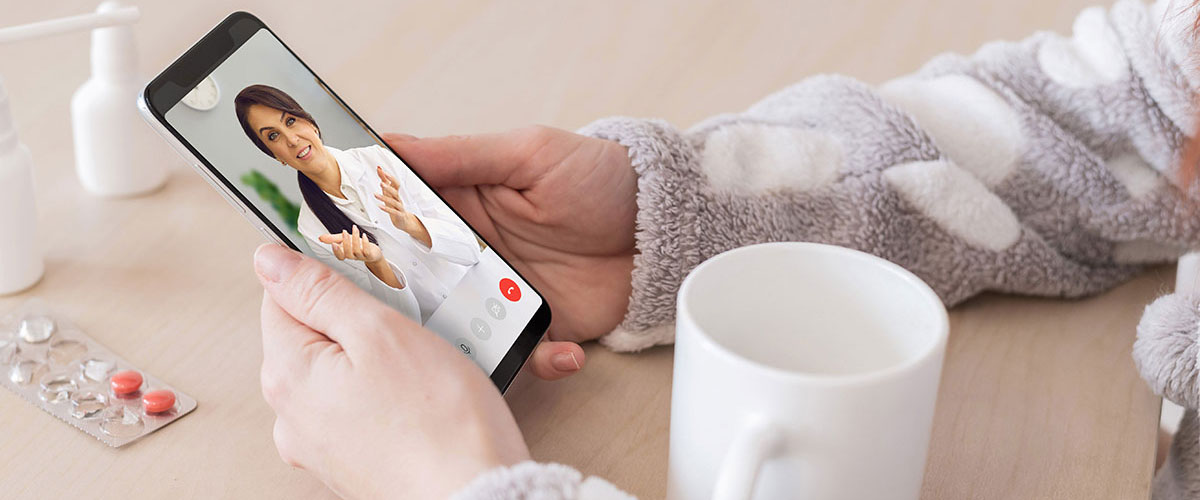 Among the many changes we can attribute to the COVID-19 pandemic is an accelerated adoption of virtual healthcare. Whether they are using phone screenings, online appointments, email and text exchanges with healthcare professionals, or trying a new mobile app offered as part of their benefits package, Canadians are embracing a variety of new ways to access care.
Virtual care is proving to be an effective way of reducing visits to clinics and, more importantly, overwhelmed hospitals and emergency rooms. In fact, a recent study by Women's College Hospital in Toronto shows that 98% of patients feel the quality of virtual visits is the same or better than in-person care.[1]
Given that 69% of Canadian parents and caregivers[2] are interested in virtual care, now is the time for employers and practitioners to make it a mainstream healthcare delivery channel.
Old barriers are falling
Many physicians, nurses and nurse practitioners have been experimenting with virtual care for years. It is a way both to extend services to Canadians who do not have a regular family physician or those that live in remote areas and to serve busy professionals and their families – in fact, the majority of Millennial employees are interested in virtual care2.
While the pandemic has turned our world upside down, it has also helped some hesitant practitioners to adopt virtual care as a way to provide care to their patients and to protect themselves.
In parallel, employers are increasingly looking to virtual care as a way to offer a better experience for their employees. A pilot project by a Quebec-based company found a 95% employee satisfaction rate with their virtual care app.[3]
Canadian employees are excited about virtual care and, according to a report by TELUS Health , two-thirds say they will use it if it's offered and 71% are willing to give up other benefits in order to have virtual care. Yet the same study finds only 9% of employers are offering the benefit, which may indicate the time is right to include virtual care as part of a competitive benefits package that can help attract[4] and retain[5] key talent.
In addition to a great patient experience, virtual care can help reduce other costs associated with in-person healthcare delivery. For example, a company with 200 employees could recover more than 2,600 hours of productivity if even half of their employees used virtual care instead of taking time off for in-person appointments.2
Technology proves itself
Employees are also customers of companies like Amazon and Uber, whose innovations have changed consumer expectations around technology – including healthcare delivery. The so-called consumerization of healthcare is placing more pressure on practitioners[6] and employers[7] to deliver an on-demand, intuitive, and highly customized experience[8] whether it's renewing a prescription, getting an expert opinion on a sore shoulder or consulting for a mental health concern.
Virtual care is not a single platform or app: it's the practice of using available tools to access care when and where needed. For example, apps like Akira by TELUS Health offer employees on-demand access to clinicians who can help with physical and mental health concerns, specialist referrals and routine needs such as prescription renewals. Using secure text and video on a computer, tablet or smartphone, patients can access care when and how it makes sense for them. Best of all, the vast majority (81%) of concerns are resolved during virtual visits without any further need for an in-person consultation1.
Addressing chronic illnesses
The virtual community of care can also help employers address the impact of chronic illness on the workplace. One study shows that 58% of benefit plan members have at least one chronic condition, and almost half have missed work because of it[9]. Better access to trained clinicians and health coaches can help bring these costs under control. "The opportunities to address chronic conditions, including mental health, using a holistic team of practitioners is particularly exciting," observes Meaghan Kappel, a Director in PWC's M&A Strategy practice. "Employees want continuity of care, and we now have a workable model to deliver it effectively."
The time is now
In addition to a demonstrated demand for virtual care, strong technology innovations, positive patient experiences and a clear benefit to employers, consider that nearly five million Canadians don't have a family doctor,2 and of those who do, one-fifth wait more than a week to see their physician2. There's no question that virtual care may be just the remedy our often overworked healthcare system needs.
If ever there was a time to prove the mettle of a virtual healthcare model, this is it. For employers, there is an opportunity to assess how virtual care can be a part of their overall benefits offering. With its multi-generational appeal and low barriers to entry, it's a great way for employers to differentiate themselves while showing employees they're investing in their overall wellness.
---
---
[1] Bhattacharyya, O. 2020. The promise of virtual care: Evisits in Ontario.
[2] TELUS Health (2019). Virtual Healthcare in Canada: The Solution at Our Fingertips.
[3] Learn more about the pilot study in this video.
[4] Society of Human Resources Managers, 2019. Employers boost benefits to win and keep top talent.
[5] Fuller, J.B., and Raman, M. (2019). The caring company: How employers can help employees manage their caregiving responsibilities – while reducing costs and increasing productivity. Harvard Business School.
[6] Managed Healthcare Executive (2019). What consumerization means for healthcare.
[7] Cowden (2020). Workplace 2020: Consumerization is key to productivity and ROI.
[8] Adobe (2019) The consumerization of healthcare.
[9] Sanofi Canada, 2018. Canadian employers underestimate the proportion of their workforce with a chronic condition and its impact.