Claim pending / acknowledgement
This type of response is generated when the insurance company has successfully received the payment request but is unable to complete its adjudication process. This response serves to confirm reception of the payment request.
Before a claim pending response is displayed, a pop-up is displayed that advises you about the pending status, and asks you what you would like to do.
For information on voiding a claim, see Voiding or cancelling a claim.
Actual adjudication results will be provided at a later time by other means, depending on the insurer's preferred method. You will not receive a notification through the portal. These results are based on the individual designated to receive payment and may, in some cases, vary from the information listed on the request. In such situations, a comment often appears in the Insurer notes section. You can see the final response in the payment statement from the insurer.
The TELUS Health acknowledgement status will not change in eClaims once the insurer has processed that claim to reflect the paid amount. Please contact the insurer to confirm the status within 24 to 48 hours.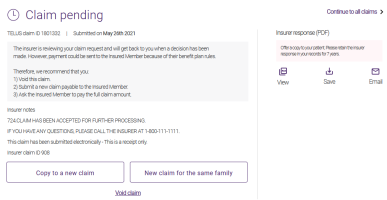 In some cases, more information may be provided about the reason that the claim is pending. For example: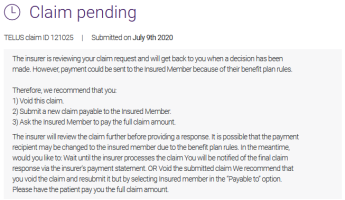 From the Insurer response (PDF) section, you can view or save the Claim Acknowledgement, or email it to the patient.
The top of the Claim Acknowledgement is almost identical to a printed Explanation of Benefits response except that the Response Summary and line details only provide information about what has been submitted and no details about how the insurance company has adjudicated the submitted services.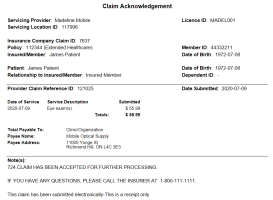 Obtaining payment after receiving a claim pending / acknowledgement
Refer to the Total Payable to field to determine how much you should charge your patient when you receive an Acknowledgement response:
If the Total Payable to field of the Acknowledgement indicates that payment will be made to the Recipient member, you should request full payment from your patient, as all insurer payments will be sent directly to the recipient member.

If the Total Payable to field on the response is blank, you can either:

Wait for the insurer's final response before requesting payment of the outstanding balance from your patient or the insured member, as applicable, or

Cancel (void) the Acknowledgement and resubmit the same claim with the payee listed as the insured member. This option is especially useful in cases wherein you are unsure of your ability to collect unpaid balances from your patients after they have left your office. It enables you to request full payment on the spot from your patients without the need for them to submit a paper claim to be reimbursed by the insurer. For future claims submitted by this patient, select the Insured member option in the Total Payable to field. Please refer to the Insurer-specific section for further details.
Related info