3 ways technology is helping us manage our prescriptions.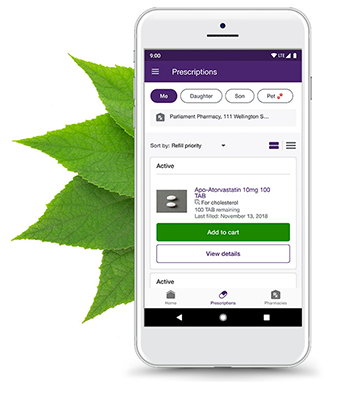 What would we do without our smartphones or tablets?
These devices have revolutionized how we do practically everything. Need to order food, get a taxi or find out the latest news? There are several apps for all of that, and more. Technology is impacting and improving many areas of our daily lives, including the way we manage our health information.
Thanks to technology, hospitals, doctors and pharmacies are now able to leverage technology to serve their patients more efficiently. In fact, did you know that your pharmacy can help you manage your health information and your prescriptions with a free service called PharmaConnectTM?
Here are three ways technology can help you manage your prescriptions:
Skip the lineup and renew your prescriptions online.
For most of us, a twenty-four-hour day often feels insufficient. Why spend a portion of it waiting in line at the pharmacy to order your prescriptions? PharmaConnect lets you order your prescription refills through a mobile app and online service. You can get a notification by email and/or text when the prescription is ready so you can pick them up only once they're ready. You can also send a photo of a new prescription through PharmaConnect to your pharmacy.
Manage your family members' prescriptions.
You can manage your family's (even your dog's) prescriptions directly from your phone or tablet by linking their PharmaConnect profile to yours. Having access to your family members' prescriptions helps coordinate your trips to the pharmacy, allowing you to order and pick up different prescriptions at the same time. And thanks to the refill reminders and medication information, you no longer have to worry about forgetting a prescription.
Get clear visibility of your prescriptions.
Review your renewal history, order refills and see how many refills you have left with PharmaConnect, a free service accessible online or via a free app. This service also lets you view, download and print your list of medications ahead of medical appointments or before traveling. Come tax time, you can easily download the previous year's tax receipts in just one document.
All this translates to a well-organized control of your prescription information, right from your smartphone, tablet or laptop. And, if you link your family members' profiles to yours, you can do all of these things for them as well.
Next time you pick up your medication, ask your pharmacist what digital services they offer to optimize your pharmacy experience.