Employee engagement tools and materials
Now that you've launched virtual care for your employees, we want to help you promote the service so that employees can get the care they need, when they need it. On this page you'll find a series of tools and resources to promote the benefits of virtual healthcare within your organization, which could result in reduced absenteeism and increased productivity.

Simply click on the images and enter your email to download, and check back often for new and updated resources. We've also created an onboarding best practice checklist and an IP whitelisting document to guide you through the launch process.

For any questions, please contact your account representative.
---
---
---
Email templates
Upon launch, your employees will receive an activation email and two reminder emails (15 and 30 days after launch), all of which contain their unique activation link.

The emails below can supplement those automatic emails by reminding your employees that they have access to 24/7 care, and encouraging them to activate their account.

The email templates can be used in Outlook and can be edited to include your company name. Click on the icons below for more information and to download the templates.
---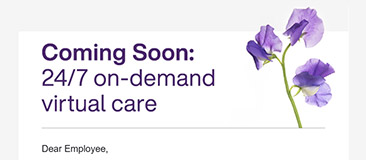 Introductory email template (initial launch)
This email will tell your employees about virtual care and let them know to look out for the activation email. Send email 1-2 days ahead of launch date.

Download email template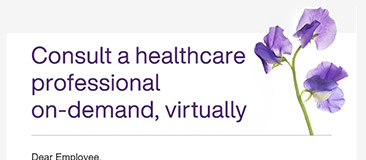 Ongoing engagement email
In our experience, once an employee uses virtual care for the first time, they are hooked – they'll continue to use the service whenever they need it. These engagement emails feature different real-life situations when virtual healthcare would be helpful. They can be sent as a friendly reminder to employees to utilize the service.

We regularly send newsletters to all members who have activated their account. The newsletters cover timely health topics and new virtual care features, and always include a fun, healthy recipe. Check back often as this page will be updated with the most recent edition of the newsletter every few weeks. Looking for a previous version? Please email sulmaan.azmat@telus.com.

Download email templates and distribute to your employees.

Download email templates Download latest newsletters (PDF)
---
---
---
Handouts
Distribute the employee handouts as a desk drop, make it available in lunchrooms or other common areas, or post on your company's intranet along with other employee resources and information. Click on the icons below to download the handouts.
---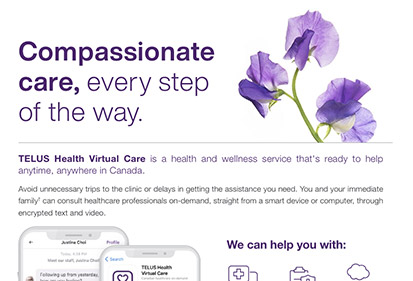 Welcome handout
This handout can be used to introduce virtual care to your employees. It explains what the service can be used for and how easy it is to activate their account.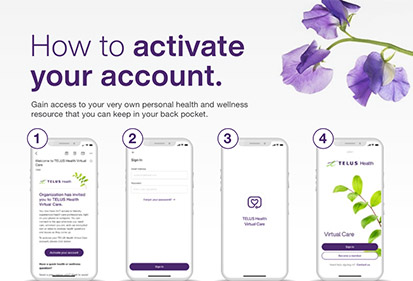 Activation flow-chart
This step-by-step chart will help guide your employees in their account.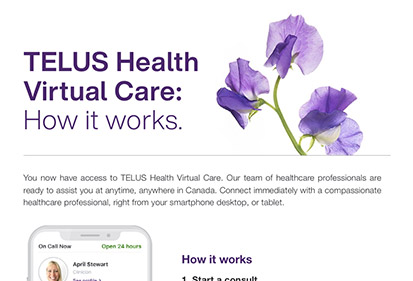 What you need to know
This one-pager provides a quick guide to the home screen and what virtual care can be used for.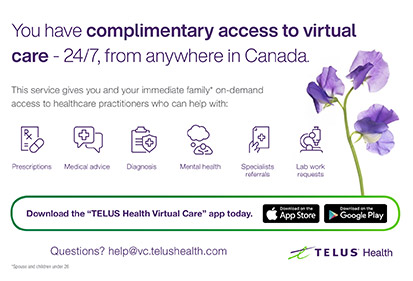 Postcard
This postcard can be printed and distributed to your employees as a desk drop or simple hand out to encourage account activation.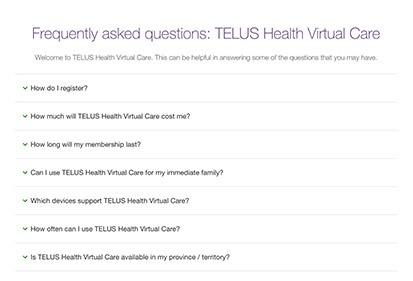 Frequently Asked Questions
This webpage outlines some frequently asked questions about virtual care. Many of the questions you receive as an employer or that you may have yourself can be found here.
---
---
---
Video
The instructional video is available to be posted on your company intranet, sent out via email or used in employee presentations.
---
How to activate your account
Share this quick video that shows how simple activating an account can be.
---
---
---
Digital assets
Does your company communicate with employees through digital display boards and corporate screens? Our digital engagement tools can easily be incorporated into your existing employee digital communication platforms. Need a custom digital format or size? Contact your account representative.
---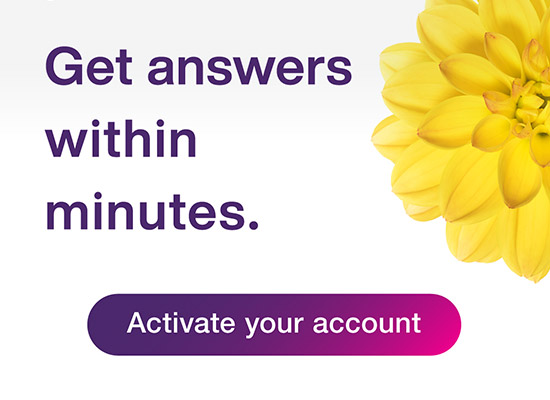 Web based
Use these digital assets for internal digital communication methods such as employee portals or any other HR communication platforms. These assets come in various sizes: leaderboard, skyscraper, mobile, square and rectangle.
---
---
Posters
These employee engagement posters are designed to help increase employee awareness about virtual care and drive adoption of the service. Each poster highlights a different case that the virtual healthcare service can be used for. These posters can be posted in common areas or sent out by email.
---
---
---
---
Request an information session
Our team is available to host information sessions for organizations of a certain size, in English and/or French.

Please note info sessions must be requested at least three weeks in advance and, while we can provide guidance, promotion of the sessions will be the responsibility of the employer.

Information sessions are typically 45-60 minutes long. Some of the topics covered include:
Activating your account
Inviting family members
Virtual care key features
Real life use cases for virtual care
Question and answers
---
---