As some of the main players in the health industry, physicians have a big responsibility when it comes to elevating care delivery and health outcomes. They aren't the only ones responsible for it, however; patients also have a significant role to play.  
Warner Slack, a prominent physician and former Professor of Medicine at Harvard, once claimed that patients are the most under-utilized resource in healthcare, something that has become even more apparent in recent years. The development of new technologies and the decentralization of medical information, for instance, have given people the ability to access their health records, and take more interest in and actively manage their health. COVID-19 has also contributed to this, requiring individuals to seek out and respond to care in new ways. 
Patient engagement holds tremendous potential, and healthcare professionals need to do all they can to ensure it continues to grow. But before you can guide patients on their quest to become champions of their own health, you first need to understand what patient engagement looks like, how it has evolved, and the challenges still facing healthcare professionals and patients.
Understanding patient engagement. 
Patient engagement occurs when individuals become active participants in their own care or the care of loved ones. This can include a range of activities, such as preparing for appointments with family doctors and specialists, asking questions about diagnoses and treatment plans during a visit, and sharing crucial outcomes and information between visits.
While the concept of patient engagement existed long before the rise of technology, digital tools and wearable devices — think heart rate monitors, electronic medical records (EMRs), and fitness apps — have made it easier for individuals to manage their own health. In fact, because of technology, patient engagement can now take a variety of forms and occur across a variety of touchpoints.
The engaged patient's healthcare journey.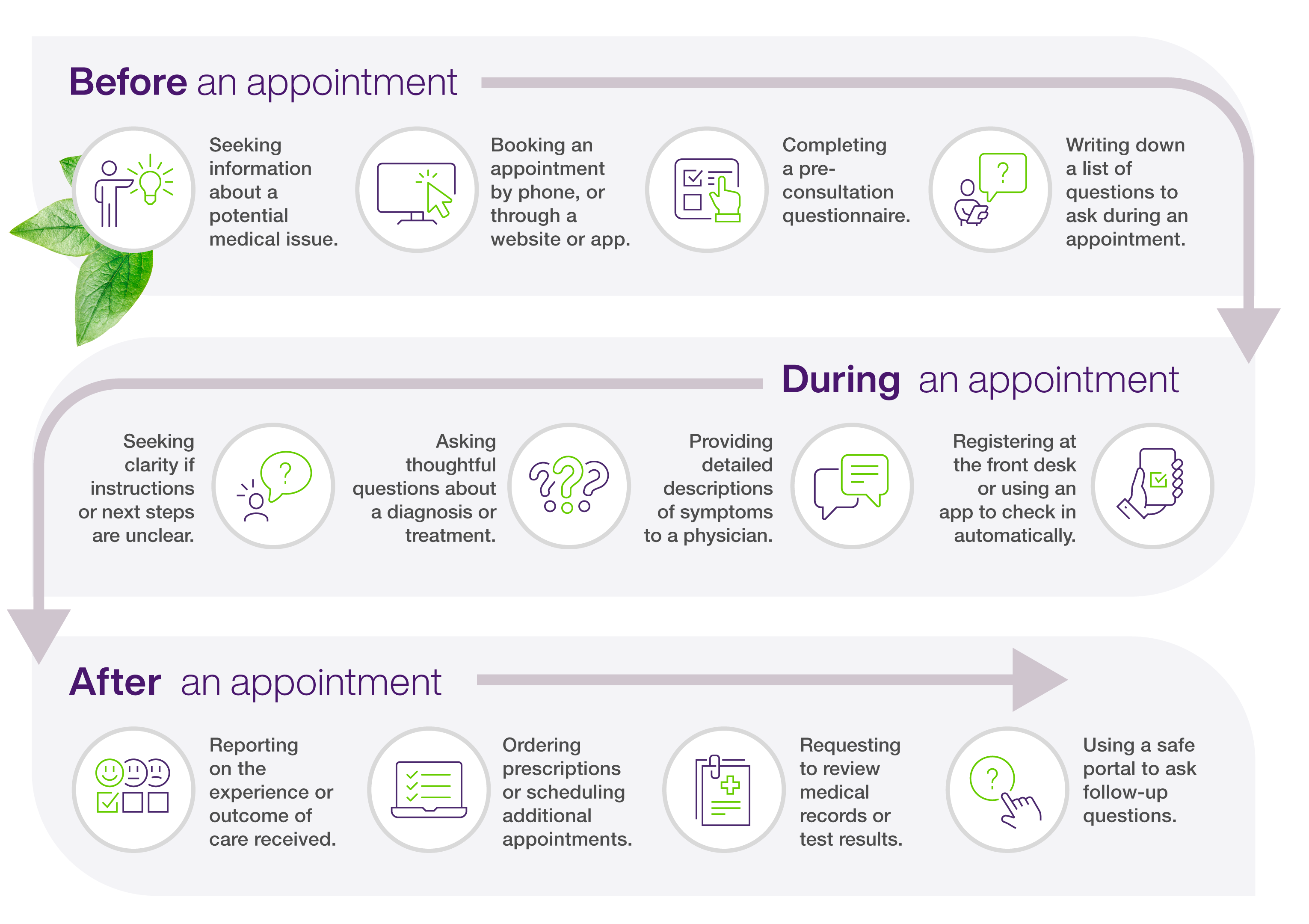 Why patient engagement matters.
Engagement can benefit patients and healthcare professionals in profound ways. 
Great health outcomes.
Patients who actively manage their health can experience better outcomes, and may even require less assistance from medical professionals. Individuals who use TELUS Health's Home Health Monitoring, for example, require up to 76% less care than the average patient.
Positive health experiences.
Patient engagement fosters a cycle of transparency and accountability in the healthcare system: when patients ask questions about their symptoms and treatment plans, it encourages physicians to share information — which ultimately helps patients make smarter health decisions. Meanwhile, physicians can use the insights they collect from patients to help improve the quality of care they provide.
Not only that, but the communication and trust exhibited by engaged patients may lead to  increased satisfaction and morale among healthcare workers. 
Efficient health practices.
Engaged patients understand when they need to seek professional medical advice, and perhaps more importantly, who they need that advice from. This, in turn, means work can be better distributed among primary care physicians, specialists, and others. Patient engagement can also help reduce the overall cost of healthcare: one study found that an engaged patient costs 31% less than a non-engaged patient because they engage in recommended behaviours and therefore require fewer appointments with healthcare professionals. 
The evolution of patient engagement.
Patient engagement has grown and evolved over recent years. A 2019 Canada Health Infoway survey showed that 45% of respondents were engaged1 in their healthcare, up from 3% the previous year. 
"Even prior to the pandemic, the trend was moving toward people being more involved in the pre-interaction, interaction, and post-interaction stages of care," says Dr. Puneet Seth, a family physician and Managing Principal at TELUS Health. "People were already growing accustomed to doing more through technology."
But that's not to say COVID-19 didn't have any impact on patient engagement. As clinics and other healthcare facilities closed due to stay-at-home mandates, individuals became more open to booking appointments online, completing electronic intake forms, and embracing telehealth. According to TELUS Health's 2020 Virtual Healthcare Industry Report, the number of virtual care users in Canada grew by a staggering 240% throughout the year. 
"Even prior to the pandemic, the trend was moving toward people being more involved in the pre-interaction, interaction, and post-interaction stages of care." — Dr. Puneet Seth, Managing Principal, TELUS Health
However, barriers to patient engagement still exist. Most noticeably, the myriad of technologies that are available can be overwhelming for physicians and patients alike; interoperability and integration is also a challenge. This can contribute to healthcare professional fatigue, which in turn can negatively impact quality of care for patients. Additionally, the absence of clear standards for health apps and technologies can make it difficult to know which ones are safe to use.
Additionally, physicians aren't necessarily learning how to adapt to new tools and solutions. "Because technology changes so quickly, healthcare professionals need to have technological competency, which traditionally hasn't been taught in medical school," says Dr. Seth. "When patient engagement happens in an uncoordinated way, it can have detrimental impacts, so one of the challenges is the sheer number of ways people are engaging and the rate at which those ways change." 
Despite these challenges, it's hard to ignore the benefits that patient engagement can bring. That's why it's critical for physicians and other healthcare professionals to continue taking steps toward building stronger relationships with patients, enhancing communication, and adopting collaborative health tools.
7 ways to help increase patient engagement.
1. Use trusted tools and solutions.
Digital tools are essential to driving patient engagement, but not all of them are created equally. Look for solutions that fulfill your clinic's needs and that have been tested and approved by others in your network. TELUS Health offers a number of helpful technologies, including EMRs, patient portals, Home Health Monitoring, and a Collaborative Health Record.
2. Share knowledge with other healthcare professionals.
Increasing engagement requires support from a patient's entire care team. Make sure you're taking steps to educate yourself and your clinic staff about the benefits of patient engagement, and to share best practices and advice with peers.
3. Invest time in understanding cybersecurity.
Many healthcare professionals and patients are concerned about the cybersecurity risks that are associated with having health information shared across different platforms. The good news is that many organizations, including the Ontario Medical Association, have created online resources to help physicians better understand how to choose robust solutions and protect patient data.
"This is crucial to do as a baseline when using electronic medical records, and even just existing electronically in the 21st century," says Dr. Seth. "But it's that much more important when you're using a variety of different patient engagement tools." 
4. Educate patients with additional resources.
Individuals aren't likely to engage with passive healthcare professionals, so ensure your patients feel supported and that your staff is able to assist and educate them. One way to do this is by sharing helpful resources — such as websites, news articles, and appointment notes — and information about treatments and medications, all using patient portals. 
5. Involve patients in the decision-making process.
True engagement occurs when physicians work together with patients, making decisions and selecting treatments and care plans that balance health outcomes with personal preferences. To achieve this, consider communicating often, and providing patients with the information they need to make smart choices about their health. 
6. Acknowledge and reaffirm the value of engagement.
Recognize when patients take steps to manage their own health. Along with acknowledging their actions and showing appreciation, explain how they're contributing to the success of the healthcare system. For example, let patients know that completing pre-appointment questionnaires can help you provide care — which in turn benefits them.
7. Deploy and iterate new techniques for patient engagement.
Don't be afraid to test new strategies and continually assess what works. "Try things out safely, but figure out what really works and what doesn't work," says Dr. Seth. "Because at the end of the day, once you've done your due diligence, spoken to colleagues, and educated yourself, you have to take a leap and try it out." 
Working toward a healthier, more engaged future.
Patient engagement is essential to the success of today's healthcare system, and its steady growth suggests that it will continue to play an even greater role in years to come. By empowering patients to become more involved in their care, physicians and other healthcare professionals can help improve healthcare experiences, contribute to better health outcomes, and create a healthier future for everyone.
Learn more about how TELUS Health's solutions for clinics and physicians, including the Collaborative Health Record, can help increase patient engagement.
1Defined by Canada Health Infoway as those who are highly confident and involved in partnering with their care team.