Fear, stress and worry are normal in a crisis. But in the uncharted waters of a global pandemic, it's understandable that for many people, these emotions are amplified. For psychiatrists, the challenge is not only how to run a practice safely in the midst of a pandemic, but also how to manage the rising swell of patients desperately seeking help.
State of emergency declared.
It was Tuesday, March 17 when the harsh reality of COVID-19 hit Ontario. Premier Doug Ford declared a state of emergency and, in an effort to slow the swell of COVID-19 cases, began to close services and businesses. The doctors and staff at the Ottawa Anxiety and Trauma Clinic had some big decisions to make – and fast.
"The closures started during March break and by the following week, everything was shut down including the mall where our clinic is located," says Dr. Zeglinski. "Although we are considered an essential service, we are on the second floor with no direct access to the main doors."
Keeping the clinic open meant co-ordinating patient arrivals with security. Patients would have to be escorted to the clinic through doorways and narrow hallways, making physical distancing a challenge. "We didn't feel it was safe, so we decided the whole team would go virtual."
EMR makes fast work of a big task.
Moving to a remote setup takes time and planning – but like all healthcare providers caught in the crisis, Dr. Zeglinski and her colleagues didn't have that luxury. While they needed to work fast, the fact that to store and manage patient files electronically meant the task of moving an entire practice involved simply bringing their computers home.
"It was glorious. I had access to unlimited charts, patient phone numbers – everything I needed," says Dr. Zeglinski. "Without an EMR, I would have had to bring boxes and boxes of charts home, or go into the office daily to pull patient information. With our administrator working from his home, we would have had to share paper files. It would have been much more difficult."
Keeping patient care on track during a pandemic.
Within a week of moving to her home office, Dr. Zeglinski received four email requests to see new patients. "I think most psychiatrists are receiving a lot of new requests because there's a greater need during a pandemic," she says.
While fielding requests for patients requiring short-term care during a difficult time, she was concerned about possible setbacks with her own patients, many of whom are suffering with chronic disease or have significant trauma histories. Dr. Zeglinski needed a fast solution to keep their treatments on track.
Initially, Dr. Zeglinski used a combination of phone sessions and virtual sessions through a telemedicine tool to treat patients while she searched for a better solution. Within two months, she found it – an EMR-integrated virtual care tool that enabled her to conduct virtual patient visits right from her EMR.
Using a virtual care tool also gives Dr. Zeglinski the ability to spot visual cues, which is important in psychiatric care. "I recognize that certain movements represent a shift or a state of anxiety. Blinking, a collapsed posture, or looking away, which is a sign of avoidance. If I'm on the phone with a patient, I can't see any of that," she says.
Patients warming up to the idea of virtual doctor appointments.
Initially, the idea of letting Dr. Zeglinski into their private homes virtually made some patients a little uneasy. "Some felt it was intrusive that I was seeing their bedroom or their cat or dog," she says. "Then there were others like patients with agoraphobia who have trouble leaving their homes – they are very happy with this option," she says cheekily.
Sometimes, the home setup isn't ideal. "When patients come to the office, there is that sense of privacy, but at home there may be family members listening. Patients may be more cautious about what they're saying and have trouble settling into their session," says Dr. Zeglinski. "We talk about it and bring it into the therapy. In reality, some had to get creative and find a better space – even if it's in their closet."
As the pandemic continues, patients have had time to adjust. Dr. Zeglinski says that 99% of them are grateful to have the virtual option. And many of them, even those in older age brackets seem to be able to work with the technology.
She can see how virtual care will be useful in her patients' treatment even after things return to a normal state. "It could be a way to build rapport, especially for a person who's totally housebound. We could start with a virtual appointment, work up to stepping outside and eventually get them to come into the office," she says.
"It's a great tool for those who live outside the city. If bad weather prevents them from making it to their in-clinic appointment, we can switch to a virtual session. I have patients who suffer from migraines who sometimes don't feel safe to drive, and patients with dissociation – an extreme form of PTSD, who get lost and disoriented when they're having a particularly bad day. I could see them virtually to help ground them and get them back on track."
Still, there are those who Dr. Zeglinski feels would prefer an in-person session given the choice. "Definitely patients with insecure attachment. Those people do long for face-to-face even if it's just to be able to reach out and touch your hand."
While there may be some limitations to using a virtual care tool in therapy, Dr. Zeglinski feels that it has a place in her practice going forward. "I can see having a day of virtual sessions at home, and going into the office a few days a week –  even subletting my space to someone who wants to be a part of the clinic. That would be a nice mix."
"I don't know if I'd want to be 100% virtual – but I like that I have the option to do therapy virtually."
Thinking of bringing virtual care to your practice?
If you're thinking of setting up a virtual practice and you're wondering how to begin, watch Bringing Virtual Care to Your Practice. Dr. Zeglinski talks about her experiences working with a dispersed team, how she helped her patients adjust to seeing their doctor digitally, and the tips and techniques she uses to ensure they get the most benefit from their virtual therapy sessions.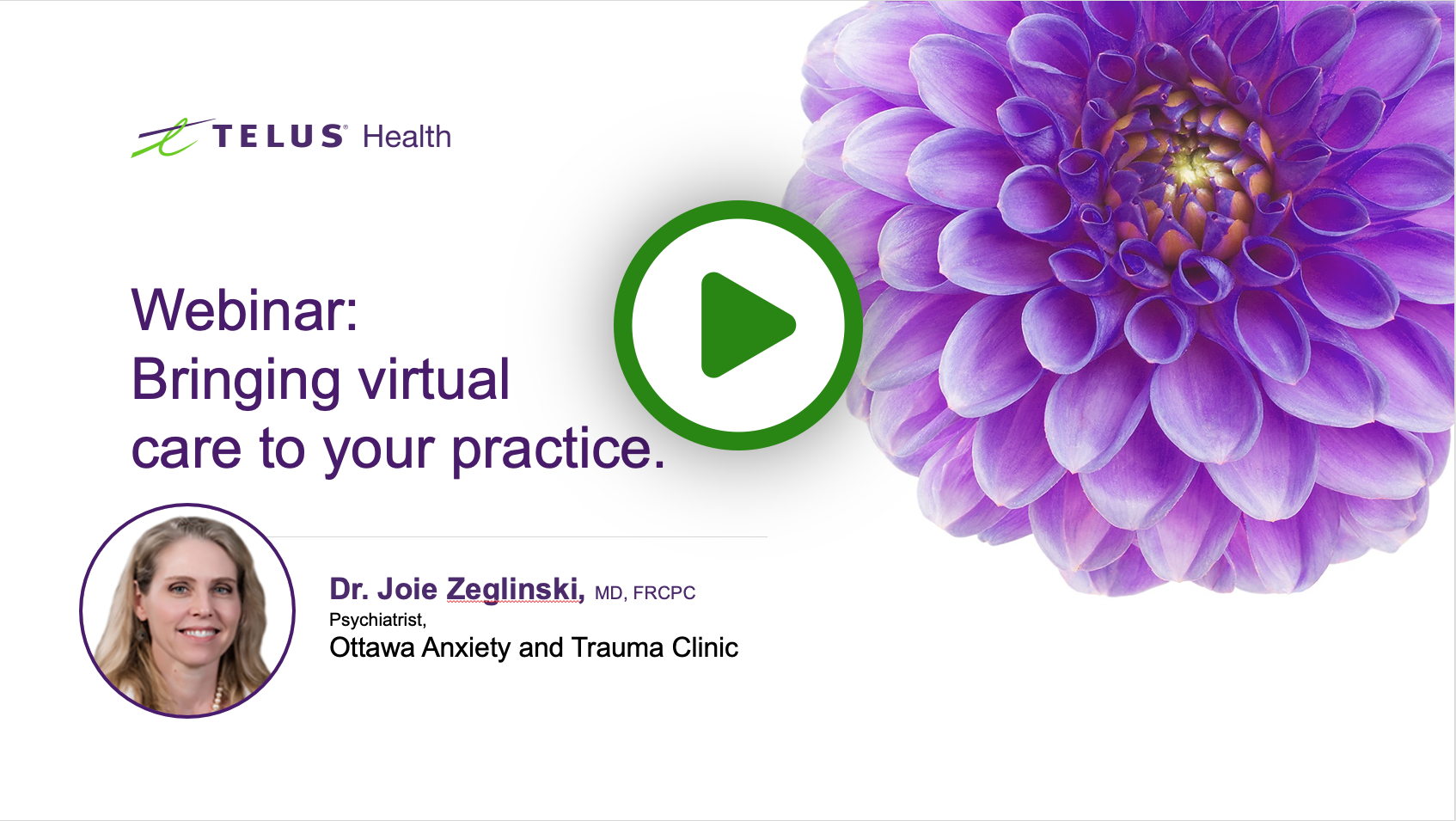 Learn more about technology solutions for psychiatrists.