Electronic prior authorization (ePA) has made its debut in Canada, with broad scale availability scheduled to begin in early 2021. "This is the first, big step toward a solution to generate efficiencies for insurance providers and prescribers and give plan members quicker access to their medications," said Jason Kennedy, director, health business consulting, TELUS Health.
Canada Life and Innomar Strategies, a patient support program (PSP) program, have signed on with TELUS Health to pilot its ePA solution for the next six months, from November through April. "We will use this period to really evaluate the technology as well as the process and make whatever adjustments are needed to make it better," said Kennedy. "We believe the technology is sound, but this is a huge change in process and we look forward to the frontline feedback from Canada Life and Innomar."
While industry stakeholders have spoken of the need for ePA for years, its relevance is even greater today. "In a COVID world this aligns with where [health care is] going from a digital and virtual perspective, in particular the use of electronic signatures from the physician and the patient, this allows for the removal of a touchpoint that typically happens in person," noted Kennedy.
How ePA works.
Physicians and PSP staff go to a web portal to complete the necessary forms, secure electronic signatures and send digital outputs directly to the insurance carrier for processing. Physicians can also opt for the PSP provider to fill out the medical section of the PA form on their behalf, so that all that is required of them is their electronic signature.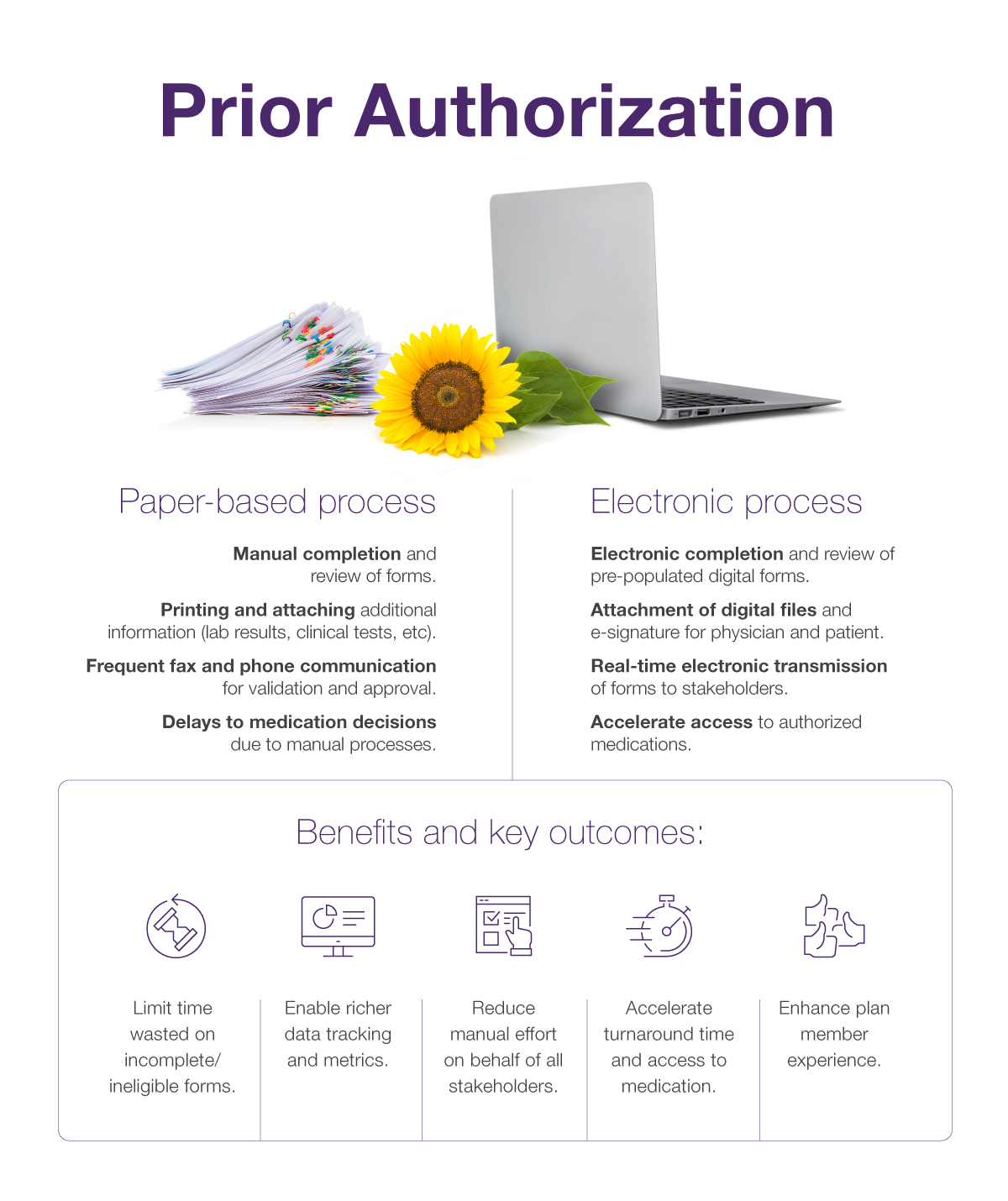 The solution has been designed to incorporate automated review algorithms for prior authorization requests. In these cases, the algorithm would perform a real-time assessment on the clinical criteria and provide insurers with an immediate decision recommendation on the PA request. Carriers will have the option to use this recommendation, it won't be a mandatory requirement.
During the pilot phase, the TELUS Health ePA is focused on three drug molecules. After the pilot, TELUS Health will work with insurers and patient support programs and to begin including additional drug molecules. "The goal of course is for all prior authorization molecules to go through ePA, though this will take time and next steps will be determined with each insurance provider on a case-by-case basis," said Kennedy.
The ePA forms will be adaptable to accommodate insurer-specific criteria. At the same time, TELUS Health will work with insurers to establish consistent industry standards as much as possible.
The cost, the savings.
Market pricing will be determined after the pilot. As this is a key step in digitizing the patient journey, cost savings are not the primary endpoint. The potential benefits from patients and physicians applying digital signatures, access to data in an electronic form that can be used to support decision making, and reduced rework and non productive work that exists in the paper based process due to missing information and illegible handwriting that creates back and forth for all parties, and ultimately reduces the time to a carrier decision. All of these elements will be evaluated during the pilot.
"We will have a much more efficient end-to-end process, with improved integrity and consistency of data," said Kennedy.
The data itself will be much more accessible—and hence actionable, he added. "Insurance carriers will be able to draw from richer reports to better inform decision-making and eventually use it to inform plan design."
Interested?
Following completion of the six-month pilot, in April 2021, the expectation is that the TELUS Health ePA will be commercially available to other carriers and PSP providers. "Our aim is to have a solution that is compelling with benefits for all stakeholders such that we have an interested audience ready to receive this shortly following the conclusion of the pilot," said Kennedy.
To that end, TELUS Health welcomes questions from carriers, PSP providers and pharmaceutical manufacturers during the pilot phase. To learn more about the TELUS Health ePA, click here.