The past 15 months have seen a dizzying combination of accelerating, disrupted and new trends in the workplace. As part of a recent TELUS Health event keynote, Francois Gratton, Executive Vice-president, TELUS, and Group President, TELUS Health, and Laura Mensch, Vice-president, Health Benefits Management, TELUS Health, discussed the future of work and how employers can seize opportunities to humanize that future.
A recent Deloitte report suggests that employers are at an inflection point when it comes to thinking about a post-pandemic workplace and workforce. Francois reflected on some of the lessons TELUS and its 40,000 employees have learned. "When the pandemic hit, we focused on three areas: making sure our team members and their loved ones were safe and protected; supporting our partners and customers as they dealt with sudden and massive disruptions; and, maintaining and whenever possible, enhancing our network performance at a time of unprecedented demand."
Despite offering hybrid work models pre-pandemic that gave the majority of team members the benefit of a flexible work style, TELUS still needed to pivot quickly to support these priorities. Within five days of the pandemic's onset, 95% of team members were fully remote and 99% of domestic call centre agents were working from home.
A number of team members were also reassigned to respond to the rapid adoption of Virtual Health Services by healthcare providers, government, employers and individual Canadians. "We regrouped our efforts to focus on supporting this important need by accelerating the deployment of our virtual health services," Francois recalled. "For example, we developed and deployed the TELUS Health EMR Virtual Visit solution in a matter of weeks, providing our platform to 30,000 clinicians free of charge for five months to safely conduct virtual appointments with their own patients."

TELUS also scaled and expanded access to other virtual care services such as TELUS Health Virtual Care, which enables employers to offer compassionate, on-demand physical and mental healthcare to their employees. In addition to supporting the fight against COVID-19 by offering detection, screening, treatment and monitoring, virtual care also helped ensure Canadians had safe, personal access to primary care at a time when the healthcare system was under extreme pressure.
Francois added that virtual care has been one positive outcome of the pandemic. "To say Canadians embraced it is an understatement. In less than a year, we've enabled millions of Canadians to access primary care through virtual means, and research shows us that more than 80% of Canadians say they would use technology tools to help manage their health. This is something we will continue to focus on."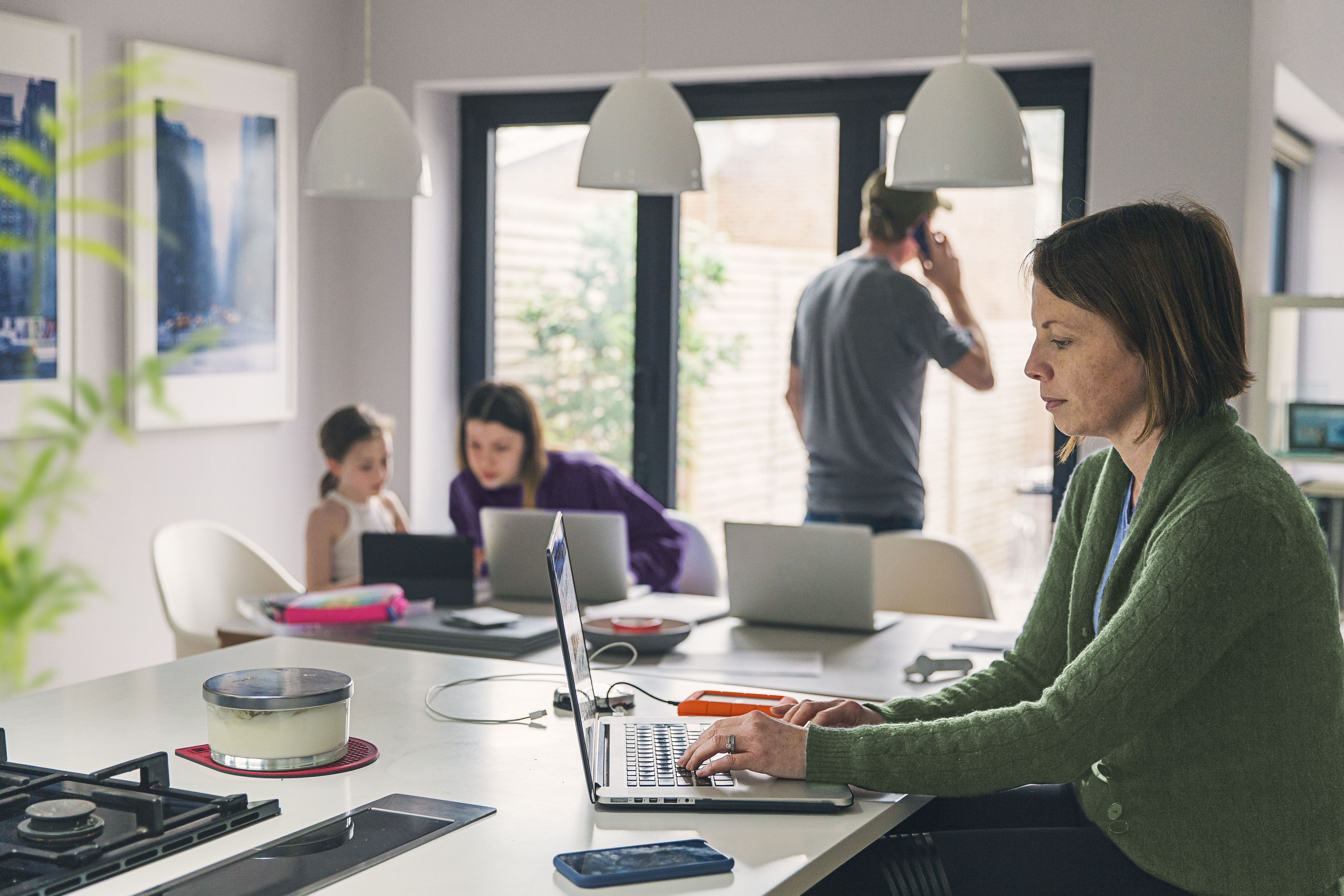 Looking ahead to the post-pandemic workplace, Francois estimates that about 90% of TELUS team members, depending on their role, will continue work remotely for at least part of the week, and he points out that seamless collaboration tools will be needed to make management agile through times of instability and disruption. 
Adapting and thriving are key themes that Laura Mensch built on. She noted how the pandemic highlighted the connection between people and work, pointing out that "employers are shifting from managing the employee experience to managing the life experience of their employees." In fact, a Gartner survey shows that employees who have life experience support show improved mental and physical health, and their employers see a 21% increase in the number of high performers.
She also predicted that purpose will become even more important for employees and that organizations will need to be more attuned to connecting their workforce to shared values and social impact.
Francois discussed how TELUS used its social purpose blueprint to give employees meaning and a chance to contribute during the pandemic. "As a large employer and plan sponsor, we're constantly looking for ways to connect what our company does to supporting the greater good. Everything we do at TELUS is driven by our social purpose. Beyond investing in technology, we're committed to giving back to the communities we call home and have dedicated $150 million to support COVID-19 relief efforts," he explained.
The TELUS Health for Good program, which brings public healthcare to marginalized communities, deployed its Mobile Health Clinics to deliver primary and mental health care, along with vaccinations to vulnerable people in 13 cities. Francois observed, "initiatives like these inspire and engage our team members. They instill loyalty and meaning, and a belief that our work truly makes a difference. Last year, members of our extended TELUS family participated in 1.2 million safe acts of giving and volunteered 1.25 million hours."
Laura highlighted another key trend for the future of work: member-centric benefits plans that equip employees with the right solutions to take ownership of their personal health journeys. She cited the 2020 Sanofi Healthcare Survey that shows 67% of Canadian employees on traditional plans want more flexibility, with 43% of plan sponsors saying they are looking at flexible plans, though nearly one quarter say there are too many barriers.
"As we move into a post-pandemic world, employers will need to assess which health and wellness solutions they need in their toolkit to support their unique workforce. Ideally, these solutions will be connected, integrated, and easy to use for plan members," Laura said.
She recommends plan sponsors look to partners that can speed up flexible benefits planning and deployment to establish a connected, integrated circle of care. "We envision a virtual journey from hire to retire, including plan member benefits enrollment via app, to health care on demand with physicians using electronic prescriptions sent to a virtual pharmacy and delivered by drone to the doorstep. We know this is possible and this is what we are looking to accomplish for the Canadian workforce."
In fact, many of these tools are already part of the TELUS flexible benefits offering to our employees. "Rolling out these types of solutions to our own teams gives us a huge edge. It creates a laboratory where we can gather feedback and insights before sharing them with our customers," Francois said.
Laura added that while benefits plans are not easy to pivot on a dime, employers don't have to solve problems in a silo. She advises plan sponsors to continue to seek out partners that can tailor solutions to the unique needs of each workforce, and to "make sure you have the right infrastructure in place to enable the shift to humanizing the future of work." 
Francois closed the discussion by pointing out that this will not be the last large-scale health emergency the world will face, and it will be important to future-proof organizations. "The world has been permanently changed by this pandemic. And this means we can never go back to the way things were in January 2020," he said. "We might not know the specifics, but we do know the future of work will look very different. Let's maintain our momentum and truly transform our way of thinking about benefits, about our workforce, about productivity, and about the nature of work in this new landscape. I can promise you that TELUS will be right there with you."