Digital health technologies are being adopted at an accelerated rate as patients and healthcare providers adapt to the changes brought on by the COVID-19 pandemic. Many now agree that this rapid change in healthcare delivery is here to stay and the pandemic has officially steered us into a technology-driven revolution in healthcare.
A recent poll by the Medical Association of Canada shows that Canadians are embracing the virtual care options they use as a result of the pandemic, and would like see them improved and expanded in the future.
"Technology plays one of the most important roles in the future of healthcare delivery – how it is practised and how it will evolve," shares Charles Lewis, Vice president and chief technology officer for TELUS Health, in Benefits Canada's "The Performers" feature (September 2020).
For mental health related illnesses, this rapid adoption of technology has transformed the way people can access care and monitor their treatments.
And with the pandemic straining employees' mental health more than ever, now is the time for employers to tap into digital health technologies to optimize employee mental health and well-being.
Mental health in the spotlight amid pandemic's second wave.
The 2020 Drug Data Trends & National Benchmark Report from TELUS Health found that 2019 saw the biggest increase in average eligible costs for private drug plans over the past five years. One of the main factors, and one of the most important findings of this year's report, is the increase in the use of medication for mental health issues, with drugs for depression representing the highest number of claims. And this is all pre-COVID-19.
As Canada enters its second wave of the pandemic, many employees are still working remotely and remain isolated from their co-workers and friends, all while balancing their work with personal and family demands. This unprecedented situation has led to anxiety and emotional stress, and in certain situations financial strain.
Mental Health Research Canada recently outlined concerning trends in Canadians' mental health as a result of the pandemic. It reported no reduction in the number of Canadians reporting high levels of anxiety and depression at the end of the first wave of the pandemic. And, despite the reduction in lockdown restrictions and in new COVID cases between April and August, high levels of anxiety and depression remained steady across Canada (anxiety: 20% of the population in April and 22% in August; depression: 10% of the population in April and 13% in August).
Offering advanced digital health tools to improve employee mental health and cut costs.
While the pandemic has increased employees' stress levels significantly, stress and mental health have actually been on employers' radar for a number of years. The costs for employers associated with workplace stress continue to be substantial.
In the Benefits Canada feature, Sanjay Cherian, Vice president of strategy and digital health for TELUS Health, addresses the cost implications associated with high levels of stress in the workplace. "For a typical large employer (500+ employees) in Canada the costs are approximately $600 per employee, or $3.5 million annually", explains Cherian.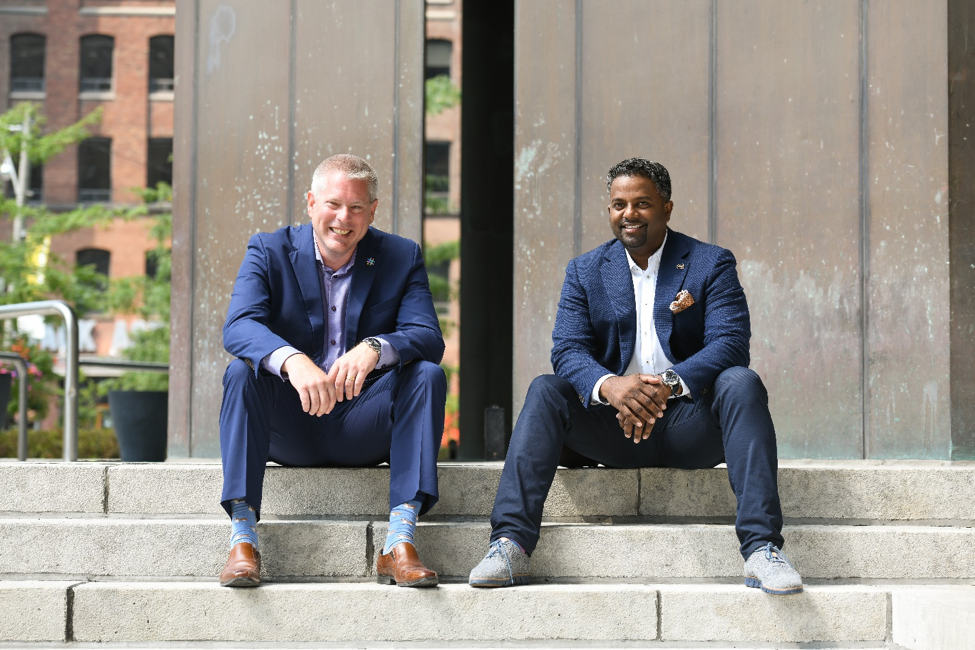 Photo: Charles Lewis, Vice president and chief technology officer, and Sanjay Cherian, Vice president of strategy and digital health of TELUS Health
And as this number grows, health technology has the potential to improve access to mental health professionals and ensure issues are being addressed and treated in a timely and efficient manner. "Plan sponsors understand that the well-being of their employees is an important determinant of workplace productivity," states Cherian.
The ability to provide advanced digital health tools means plan sponsors and employers can also take a more preventative approach to employees' mental health. This means healthcare issues for plan members are addressed upstream to avoid costly downstream circumstances. For employers and providers, this mindset could lower the cost curve going forward.
Digitization enhancing patient care and experience.
To lower costs and improve outcomes, the industry has already started to rethink mental health care delivery and monitoring.  In today's fast-paced, mobile-driven society, the integration of apps and virtual care platforms into health benefit plans is becoming more common-place. The advantages of this integration are many.
As Lewis points out, technology enables the digitization of existing healthcare practices and the integration, presentation and analysis of data from multiple sources. This integration empowers healthcare professionals to enhance patient care across the healthcare continuum.
"When interactions between patients and healthcare professionals, insurers and pharmacists are supported by a whole data set, they can help further improve the patient's overall health journey," says Lewis.
With the digitization of patient records, healthcare providers can optimize treatments, predict health risks, and develop personalized mental health plans. Employees can be empowered to take ownership of their health with an eventual access to their complete medical records at any time. Digital platforms and apps can help manage prescriptions and improve administration tasks such as appointment booking and reminders. With data on hand, insurance claims can also be processed much faster.
Digital solutions, often powered by artificial intelligence (AI) capable of managing large amounts of data, can enhance diagnostic, treatment and monitoring capabilities – and all at a reasonable cost.
Virtual care and mobile apps are shifting mental health care delivery.
Mobile devices like smartphones and tablets are giving people new and faster ways to get information, access care, and track their treatments. Virtual care platforms and tools, which offer mental health counselling online, will be an important component of the future of employee health and wellness.
For instance, tools such as Akira from TELUS Health already offers a broad and continuously growing mental health program. This simple and intuitive platform allows for users to access anywhere, anytime on-demand support. Its clinical screening and mental health assessments feature identifies and diagnoses mental health needs and offers an in-house bridge to psychiatry to develop individual treatment plans and personalized mental wellness management. It also ensures continuity of care by setting-up proactive follow-ups from clinicians to ensure plan adherence while quarterbacking multiple aspects of patients' treatment plans.
Apps also offer promising options to support chronic disease management, especially when combined with reporting that makes the connection to health benefit costs. The Babylon by TELUS Health app, which includes an Artificial Intelligence (AI) chatbot symptom checker, aims to improve the efficiency of communication with doctors to help drive better health outcomes.
Supporting employee wellness through connectivity and collaboration.
For mental health related illnesses, the emphasis on enhancing patient care across the whole healthcare continuum is particularly relevant and can support employees along their wellness or treatment plan. What's more, integration of in-person or virtual consultations with technology-driven reminders, monitoring and health data may increase adherence to treatments and have a positive effect on mental health outcomes.
At the end of the day, the increased integration of technology into mental health care is really about enabling people to have greater control over their mental health journey. By building connectivity and fostering collaboration, health technologies can support employee wellness while offering more personalization, convenience and efficiency. And with the pandemic causing mental health concerns to surge, employers can now equip their employees with the right tools to weather the storm.
Key takeaways.
The COVID-19 pandemic continues to put a strain on employees' mental health as Canadians report high levels of stress and anxiety, putting mental health at the forefront of organizations' priorities.
While recognizing that good mental health is an important factor in workplace productivity, plan sponsors and employers are looking for ways to enhance their mental health offerings and take a more preventative approach to employee well-being.
The digitization of existing healthcare practices offers new diagnostic, treatment and monitoring capabilities – empowering healthcare professionals to enhance patient care across the healthcare continuum.
Virtual care platforms and tools will be an important component of the future of patient care and wellness, improving employees' access to care and having a positive impact on mental health outcomes.